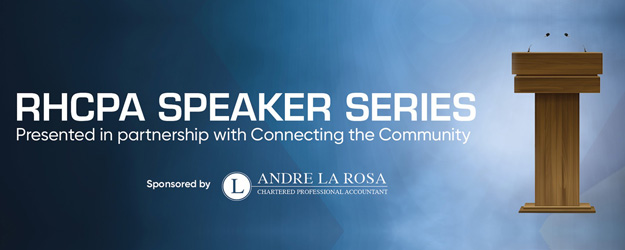 Thursday mornings 10am – 12pm.
The Plaza Suite, The Richmond Hill Centre for the Performing Arts
3 Talks $32 (+HST) Individual tickets not available
Tickets:
Dr. Barbara Perry: The Resurgence of the Right

Buy Tickets

April 16, 2020
Canada is not immune to the global rise of hatred directed at an array of communities, including immigrants, Muslims, Jews and LGBTQ+ people. This presentation will focus on the role that the resurgent right-wing extremism movement has played in this threat, with consideration of emerging trends we see within the movement. Dr. Perry also offers some suggestions for ways in we can collectively challenge the rise of the extreme right.

Barbara Perry is Professor of Criminology and Justice in the faculty of Social Science and Humanities at the University of Ontario Institute of Technology.

She is a global hate crime expert and leading author. Dr. Perry is Director, at the Centre of Hate, Bias and Extremism and is a Chair, at International Network on Hate Studies. Dr. Perry has written extensively on hate crime, including several books. Among them, In the Name of Hate: Understanding Hate Crime; and Hate and Bias Crime: A Reader. Most recently, she has contributed to a scholarly understanding of anti-Muslim violence, hate crime against LGBTQ communities, and the community impacts of hate crime.


David Meslin: Teardown, Rebuilding Democracy from the Ground Up

Buy Tickets

April 23, 2020
Our democracy is letting us down. Some call it a train wreck. Our elections have become showdowns between partisan rhetoric and promises that go unfulfilled. Increasingly the world view is grim; the American election, Brexit and the rise of extreme right groups. In Canada, elements of our democracy are reflective of this view. Partisan politics, centralized power, disenchanted voters are reflecting today's democracy.

David Meslin will discuss his book Teardown , Rebuilding Democracy from the Ground Up which has been called a handbook on how to restore/redesign democracy.

David Meslin is a community organizer and activist in Toronto. He is the founder of the Toronto Public Space Committee, Cycle Toronto and organized City Idol. He is a founding member of Spacing Magazine, the Ranked Ballot Initiative of Toronto and in 2010 he gave a Ted Talk on "The Antidote to Apathy". Today, with his book Teardown, he is advocating for a redesign of our entire political ecosystem.

Dr. David Leyton- Brown: The Embattled Presidency of Donald Trump

Buy Tickets

May 7, 2020
US President Donald Trump is a polarizing figure, exciting extreme emotions among both supporters and opponents. This lecture will explore his personal presidential style and behaviour. He describes himself as a great deal-maker, and we will examine his self-described negotiating principles, and how he has applied those principles internationally, as in the NAFTA trade negotiations with Canada. Finally, this lecture will assess the ongoing impeachment struggle, and its impact on his presidency.

David Leyton-Brown received his Honours BA in Economics and Political Science from McGill University, and his MA and PhD in Political Science from Harvard University. In 1973 he joined the Political Science Department at Carleton University, and in 1975 he moved to the Department of Political Science at York University. At York he has been Dean of the Faculty of Graduate Studies, seconded to the Council of Ontario Universities as Executive Director of the Ontario Council on Graduate Studies, and then returned to York as the Master of Calumet College, and then the Master of McLaughlin College, until taking up his current role as Professor Emeritus in 2018.

He has researched and taught extensively in the area of international relations, with an emphasis on Canada-United States relations. He has spent much of his career interpreting Canada to Americans, and the United States to Canadians.