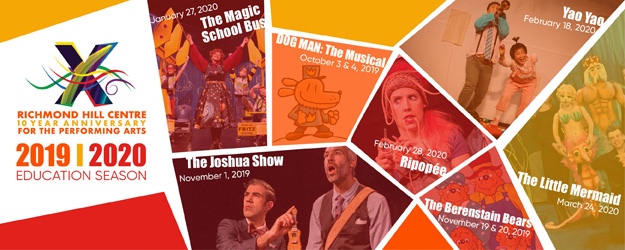 Dear Educator,
This year, the Richmond Hill Centre for the Performing Arts celebrates its 10th Anniversary Season. Over 60 shows for young audiences have graced the stage and an amazing 75,000+ students and teachers have witnessed the magic of live performing arts. This year we are continuing the trend! We have an exciting line-up of shows for all grades, each with an Ontario Curriculum connection, including for the first time a show specifically created for the preschool age group.
This season's theme is "Mosaic of Creativity." We're happy to be a part of fostering the arts within Canada by presenting Canadian companies with Canadian stories. And of course we have works from around the world. This year is an array of different types of live performances from theatre to dance to music. All performances are carefully chosen to provide students with new and engaging experiences.
Unsure of whether a performance is for you? Look for the 'Coordinator's Comments' on each page to see why we are excited about the show. Finally, make sure to check out the Educational Outreach pages to hear about In-Class workshops, lunch-time and after school programs, as well as all the other programs we offer at the theatre.
As always, thank you for being a part of our arts education community!
See you all at the theatre!
Ashley Van Eysinga
Education Coordinator
ashley.vaneysinga@richmondhill.ca
905-787-8471 ext. 228