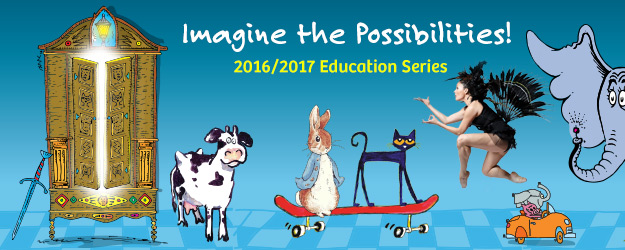 When I was eight, my mom read The Lion and the Witch and The Wardrobe to me and my two sisters. Sitting together, listening to the story transported us through the wardrobe along with Peter, Susan, Edmund and Lucy. We were instantly hooked on the series and, to this day, I still picture Narnia vividly.
Click Clack Moo, Peter Rabbit and the Seussical adventures are stories I've read numerous times to my own children. And, even now, I continue to love how something as fleeting as a story can create such lasting memories... spark so much creativity and imagination.
From parent to child, generation following generation, lie the joys, rewards and wonders of stories and storytelling. The 2016-2017 RHCPA Education Series is dedicated to passing this same tradition to you and your students. As is the case with books, live theatre has the power to transport audiences to worlds unknown or unimagined, creating indelible memories. This year, our line-up features thirteen carefully selected shows - an array of choices for students from Kindergarten through Grade 12.
You will also be pleased to see that our Educational Outreach program is back. With four unique theatre education categories to choose from, there's no better way to enrich your students' potential through Theatre Arts right in your classroom.
Above all, to those teachers and students who return year after year, please accept our sincerest thank you. For those of you who have yet to join us here at the theatre, let this be the year you allow us to share our theatrical adventures with your students. As the opening number of Seussical declares, "Oh, the Thinks you can think!" Oh, the "Thinks" your students will think!
Carrie Libling
Education Coordinator
carrie.libling@richmondhill.ca
(905) 787-8471 Ext. 228
COMING SOON! RHCPA Education now a YRDSB Approved Service Provider - available for Lunch-Time and Afterschool programs.
Contact carrie.libling@richmondhill.ca for more information.