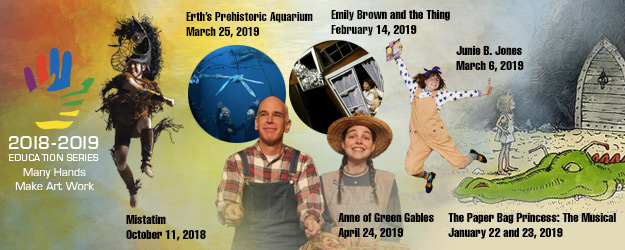 Dear Educator:
It's a delight to announce the 2018-2019 Educational Series at the RHCPA. The theme for this year is 'Many Hands Make Art'. It takes a multitude of people to create what we see on stage, and, after weeks, months and maybe years of hard work, the final piece to the puzzle is the audience. There's no greater reward to the artists and educators than the awe, amazement and enjoyment that student audiences experience. To inspire these reactions we have thoughtfully chosen 13 shows to reflect the stories and experiences of our community, each with an Ontario Curriculum connection for students from Kindergarten through Grade 12.
Make sure to take a look at our Educational Outreach program that includes in-class workshops, lunchtime and after school classes, as well as our popular summer camps! These programs aim to extend the theatre experience into the classroom and beyond.
To our returning educators, thank you for being such an important and vital part of our arts education community. To those just joining us – Welcome! I hope you enjoy the show!
See you all at the theatre!
Ashley Van Eysinga
Education Coordinator
ashley.vaneysinga@richmondhill.ca
905-787-8471 ext. 228